Pigeon eggs need to be incubated for 18 days before they hatch. To incubate a pigeon egg, you will need an incubator, a thermometer, and some patience. First, find a good spot for your incubator where it will not be disturbed.

Set the temperature inside the incubator to 99.5 degrees Fahrenheit (37.5 °C) using the thermometer. Place the egg inside the incubator on its side and make sure that it is not touching any of the walls.
The ideal humidity level for hatching a pigeon egg is between 50-55%.
Find a pigeon egg that is unbroken and clean.
Place the egg in an incubator or brooder set to the correct temperature, which is between 99 and 102 degrees Fahrenheit (38.89 °C) for pigeons
Turn the egg three times per day so that it doesn't become stuck to the side of the incubator
Keep the humidity level in the incubator at 50-55%
After 18 days have passed, candle the egg to check on its progress
If it is ready to hatch, you will see veins inside the egg and movement from the chick inside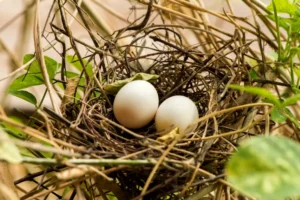 How Do You Hatch a Pigeon Egg Without an Incubator?
Pigeons are one of the oldest domesticated bird species and have been used for messenger pigeons and as racing birds for centuries.
Pigeon eggs take 18 days to hatch and require constant temperature and humidity levels to ensure a successful hatch.
Without an incubator, it is possible to hatch pigeon eggs by using a homemade set-up or by finding a naturally occurring warm spot.

To make a homemade incubator, you will need an enclosed container big enough to fit the egg, a heat source such as a light bulb, and something to regulate the temperature like an oven thermometer.
Place the egg in the container on top of some crumpled paper towels or cloth so that it can breathe and keep warm. The ideal temperature for hatching pigeon eggs is 37 degrees Celsius, so adjust your heat source accordingly.

Keep the container covered, but check on the egg daily to make sure that it isn't over or under-heating. When 18 days have passed, your baby pigeon should be ready to hatch!
If you don't want to go through the hassle of making an incubator, another option is to find a naturally occurring warm spot.

Pigeons typically build their nests in sheltered areas like cliffs or trees, so try looking for these types of locations.
Once you've found a potential nesting site, monitor it for activity and see if there are any adult pigeons coming and going. If there are, chances are there is already a clutch of eggs waiting to be hatched!

Again, make sure that the area you've chosen won't get too hot or cold before settling on it as your hatching spot.
Can Pigeon Eggs Hatch Without a Mother?
No, pigeon eggs will not hatch without a mother. The mother's body temperature is crucial for incubating the eggs and maintaining the proper humidity levels.
Additionally, the mother will turn the eggs several times a day to ensure that they are properly positioned for development. Without these necessary actions from the mother, the pigeon eggs will not develop and hatch successfully.
Can We Hatch Pigeon Eggs at Home?
If you've ever found a pigeon egg and wondered if you could hatch it, you're not alone. While pigeons are typically considered pests, many people find them to be interesting birds and want to learn more about them.
While hatching a pigeon egg is possible, it's important to know that it's not as simple as putting the egg in an incubator and letting it hatch.

There are many things you need to do to give the egg the best chance of survival.
First, you need to make sure the temperature is right. Pigeon eggs need to be kept at a constant temperature of 99-100 degrees Fahrenheit. If the temperature is too low, the embryo won't develop properly and will likely die. Too high of a temperature can also kill the embryo.
Second, you need to keep the humidity level high. Pigeon eggs need to be kept at around 70-80% humidity. If the humidity is too low, the egg will lose too much water and the embryo will dehydrate and die.
Too high humidity can cause mold or fungi growth on the egg, which can also kill the embryo.
Third, you need to turn the egg several times per day. Pigeon eggs must be turned at least 3 times per day, but more often is better.
How Do You Know If a Pigeon Egg is Alive?
A pigeon's egg will usually hatch between 18 and 22 days after it is laid. You can tell if a pigeon's egg is still alive by candling it.
Candling is the process of holding an egg up to a bright light source, such as a flashlight, in order to see inside it. If the egg is alive, you will see blood vessels moving around inside of it.
How To Make An Incubator Pigeon At Home?
How to Hatch a Pigeon Egg Without an Incubator?
If you're interested in hatching a pigeon egg but don't have an incubator, there are still ways you can do it. With a bit of care and attention, you can successfully hatch a pigeon egg without using any fancy equipment.
Here's what you need to know:

First, find a suitable location for your egg. Pigeon eggs need to be kept at a constant temperature of around 99 degrees Fahrenheit (37.22 °C), so somewhere like an airing cupboard or boiler room would be ideal.
Make sure the area is clean and free from draughts.

Next, create a makeshift incubator by placing the egg in a container such as a shoebox or plastic tub. Fill this with warm water until it comes up to about halfway up the egg.
Place another container on top of this (upside down) to create a mini greenhouse effect and stop the water from evaporating too quickly.

Now, all you need to do is wait! Check on your egg daily, topping up the water as necessary to keep it at the correct temperature. After 18 days of incubation, your baby pigeon should start hatching out of its shell.

Once it's fully emerged, remove it from the water and place it in a brooder (a small box or cage) with some soft bedding material like shredded paper or towels. Keep them in here until they're fully feathered and ready to leave the nest!
Conclusion
If you live in an urban area, you may be able to find a pigeon nest on a building ledge or in a park. Once you have found a nest with eggs, you can carefully remove the eggs and incubate them yourself.
Here is how to hatch a pigeon egg:
Find a suitable place to incubate the egg. A warm room with low humidity is ideal. You will need an incubator, or make one yourself using a Styrofoam cooler and some heat lamps.
Fill the incubator with enough vermiculite or sand so that the eggs can be turned easily. The temperature should be between 99-102 degrees Fahrenheit.
Place the eggs in the incubator on their sides and turn them several times per day.
After 18 days, the eggs should start hatching.
{ "@context": "https://schema.org", "@type": "FAQPage", "mainEntity":[{"@type": "Question", "name": "How Do You Hatch a Pigeon Egg Without an Incubator? ", "acceptedAnswer": { "@type": "Answer", "text": " Pigeons are one of the oldest domesticated bird species and have been used for messenger pigeons and as racing birds for centuries. Pigeon eggs take 18 days to hatch and require constant temperature and humidity levels to ensure a successful hatch. Without an incubator, it is possible to hatch pigeon eggs by using a homemade set-up or by finding a naturally occurring warm spot. To make a homemade incubator, you will need an enclosed container big enough to fit the egg, a heat source such as a light bulb, and something to regulate the temperature like an oven thermometer. Place the egg in the container on top of some crumpled paper towels or cloth so that it can breathe and keep warm. The ideal temperature for hatching pigeon eggs is 37 degrees Celsius so adjust your heat source accordingly. Keep thecontainer covered but check on the egg daily to make sure that it isn't over or under heating. When 18 days have passed, your baby pigeon should be ready to hatch! If you don't want to go through the hassle of making an incubator, another option is to find a naturally occurring warm spot. Pigeons typically build their nests in sheltered areas like cliffs or trees so try looking for these types of locations. Once you've found a potential nesting site, monitor it for activity and see if there are any adult pigeons coming and going. If there are, chances are there is already a clutch of eggs waiting to be hatched! Again, make sure that the area you've chosen won't get too hot or cold before settling on it as your hatching spot. With patience and some luck, you should be able to successfully hatch your own pigeon egg without an incubator" } } ,{"@type": "Question", "name": "Can Pigeon Eggs Hatch Without Mother? ", "acceptedAnswer": { "@type": "Answer", "text": " No, pigeon eggs will not hatch without a mother. The mother's body temperature is crucial for incubating the eggs and maintaining the proper humidity levels. Additionally, the mother will turn the eggs several times a day to ensure that they are properly positioned for development. Without these necessary actions from the mother, the pigeon eggs will not develop and hatch successfully." } } ,{"@type": "Question", "name": "Can We Hatch Pigeon Eggs at Home? ", "acceptedAnswer": { "@type": "Answer", "text": " If you've ever found a pigeon egg and wondered if you could hatch it, you're not alone. While pigeons are typically considered pests, many people find them to be interesting birds and want to learn more about them. While hatching a pigeon egg is possible, it's important to know that it's not as simple as putting the egg in a incubator and letting it hatch. There are several things you need to do to give the egg the best chance of survival. First, you need to make sure the temperature is right. Pigeon eggs need to be kept at a constant temperature of 99-100 degrees Fahrenheit. If the temperature is too low, the embryo won't develop properly and will likely die. Too high of a temperature can also kill the embryo. Second, you need to keep the humidity level high. Pigeon eggs need to be kept at around 70-80% humidity. If the humidity is too low, the egg will lose too much water and the embryo will dehydrate and die. Too high of humidity can cause mold or fungi growth on the egg, which can also kill the embryo. Third, you need to turn the egg several times per day. Pigeon eggs must be turned at least 3 times per day, but more often is better. This helps prevent t" } } ,{"@type": "Question", "name": "How Do You Know If a Pigeon Egg is Alive? ", "acceptedAnswer": { "@type": "Answer", "text": " A pigeon's egg will usually hatch between 18 and 22 days after it is laid. You can tell if a pigeon's egg is still alive by candling it. Candling is the process of holding an egg up to a bright light source, such as a flashlight, in order to see inside of it. If the egg is alive, you will see blood vessels moving around inside of it." } } ] }