Pigeon eggs hatch between 18 and 22 days after the female lays them. The incubation period is shorter for smaller birds, like canaries, and longer for larger birds, like ostriches.
Pigeons typically lay two eggs at a time, but sometimes only one or three. If you're wondering when the pigeon eggs hatch, the answer is usually between 18 and 22 days after they are laid.
However, this can vary depending on the pigeons' breed and the specific conditions in which they were raised. For example, if the temperature is too cold or too hot, it can affect how long it takes for the eggs to hatch.
There are a few things you can do to help ensure that your pigeon's eggs hatch on time.
First, make sure that the nest is kept clean and free of debris. Second, keep an eye on the temperature and make sure it stays within a comfortable range for your pigeons.

Finally, don't handle the eggs too much – just let them be and wait for nature to take its course!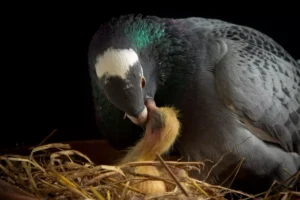 What Time of Year Do Baby Pigeons Hatch?
Baby pigeons, also known as squabs, hatch throughout the year. The peak time for hatching is typically from March to June, with a smaller second peak in late summer or early fall.
Pigeons can have up to six broods per year, with each brood consisting of two to four eggs.

The incubation period for pigeon eggs is 18 days. Once the babies hatch, they are typically able to fly within four to five weeks.
Do Pigeons Leave Their Eggs Unattended?
Pigeons are interesting creatures and their parenting habits are no exception. It is commonly thought that pigeons leave their eggs unattended, but this is not the case.
Pigeons are actually very attentive parents and will take turns sitting on the eggs to keep them warm.
This incubation period lasts for about 18 days until the baby pigeons, or squabs, hatch. Once the squabs hatch, both parents will help care for them until they are old enough to fend for themselves.
So next time you see a pigeon nest, remember that those eggs are not being neglected – the parents are just taking shifts!
What Time of Day Do Pigeon Eggs Hatch?
Pigeon eggs typically hatch between 18 and 22 days after being laid.
The time of day that they hatch is not as important as the temperature and humidity levels inside the nest, which need to be consistent in order for the eggs to develop properly.
Do Pigeons Abandon Their Eggs If You Touch Them?
No, pigeons do not abandon their eggs if you touch them. Pigeons are very protective of their eggs and will incubate them until they hatch.
If you remove a pigeon egg from the nest, the parents will continue to try to incubate it.
How Long Do Pigeon Eggs Take To Hatch?
Pigeon Eggs Not Hatching After 21 Days
If your pigeon eggs have not hatched after 21 days, there are a few possible reasons why. The first is that the eggs may not be fertile. If you're not sure if the eggs are fertile, you can candle them.
This is where you hold a light up to the egg and look for signs of life inside. If the egg is dark and shows no movement, it's likely not fertile.
Another possibility is that the temperature has been too low or too high during incubation.

Pigeon eggs need to be kept at a consistent temperature of around 100 degrees Fahrenheit (37.78 °C) in order to hatch properly.
If the temperature has been too low or too high, it can prevent the chicks from developing properly and cause them to die before hatching. Finally, another possibility is that the humidity has been off during incubation.

Pigeon eggs need to be kept at a humidity level of around 60% in order to hatch successfully. Too much or too little humidity can also cause problems with chick development and lead to death before hatching occurs.
Conclusion
Pigeon eggs hatch anywhere from 18 to 22 days after the eggs are laid. The average incubation period for pigeon eggs is 20 days.
Pigeons typically lay two eggs at a time, and both parents share in the incubation duties.

Once the eggs hatch, the chicks are born blind and naked. They will be fully feathered and able to fly within four to six weeks.
{ "@context": "https://schema.org", "@type": "FAQPage", "mainEntity":[{"@type": "Question", "name": "What Time of Year Do Baby Pigeons Hatch? ", "acceptedAnswer": { "@type": "Answer", "text": " Baby pigeons, also known as squabs, hatch throughout the year. The peak time for hatching is typically from March to June, with a smaller second peak in late summer or early fall. Pigeons can have up to six broods per year, with each brood consisting of two to four eggs. The incubation period for pigeon eggs is 18 days. Once the babies hatch, they are typically able to fly within four to five weeks." } } ,{"@type": "Question", "name": "Do Pigeons Leave Their Eggs Unattended? ", "acceptedAnswer": { "@type": "Answer", "text": " Pigeons are interesting creatures and their parenting habits are no exception. It is commonly thought that pigeons leave their eggs unattended, but this is not the case. Pigeons are actually very attentive parents and will take turns sitting on the eggs to keep them warm. This incubation period lasts for about 18 days until the baby pigeons, or squabs, hatch. Once the squabs hatch, both parents will help care for them until they are old enough to fend for themselves. So next time you see a pigeon nest, remember that those eggs are not being neglected – the parents are just taking shifts!" } } ,{"@type": "Question", "name": "What Time of Day Do Pigeon Eggs Hatch? ", "acceptedAnswer": { "@type": "Answer", "text": " Pigeon eggs typically hatch between 18 and 22 days after being laid. The time of day that they hatch is not as important as the temperature and humidity levels inside the nest, which need to be consistent in order for the eggs to develop properly." } } ,{"@type": "Question", "name": "Do Pigeons Abandon Their Eggs If You Touch Them? ", "acceptedAnswer": { "@type": "Answer", "text": " No, pigeons do not abandon their eggs if you touch them. Pigeons are very protective of their eggs and will incubate them until they hatch. If you remove a pigeon egg from the nest, the parents will continue to try to incubate it." } } ] }