Pigeons are one of the most commonly overlooked birds. These plump, often gray creatures with their distinctive coos are actually quite friendly and can make great pets.
While they might not be as cuddly as a cat or as playful as a puppy, pigeons can form strong bonds with their owners and provide companionship.
Here are some tips on how to befriend a pigeon:
Start by feeding the pigeon some food
You can do this by hand or by placing the food on the ground
Once the pigeon trusts you, try petting it lightly on the head or back
Spend time around the pigeon, talking to it, or just sitting quietly nearby
If the pigeon seems comfortable with you, try picking it up and holding it for a short time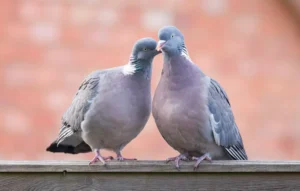 Can I Befriend Wild Pigeons?
Yes, you can befriend wild pigeons! Pigeons are social creatures and will readily accept humans as friends. However, it is important to approach them slowly and carefully so as not to scare them away.

Once you have gained their trust, you will be able to enjoy their company and even feed them by hand.
How Do You Tame a Pigeon?
Pigeons are one of the most common birds in cities around the world, and they have long been domesticated.
While wild pigeons can be aggressive and territorial, tame pigeons are generally gentle and make good pets. If you're thinking about taming a pigeon, there are a few things you need to know.

First, it's important to understand that not all pigeons can be tamed. Some birds are simply too wild or too fearful to ever become comfortable around humans.
It's also worth noting that even tame pigeons can bite if they feel threatened, so always use caution when handling them.

If you do find a pigeon that seems tame enough to approach, the next step is gaining its trust. This can be done by offering the bird food from your hand – try small pieces of bread or seed at first.
Once the pigeon starts taking food from you, it's a good sign that it's beginning to trust you. Patience is key when taming a pigeon; don't expect results overnight.
It may take days or weeks for the bird to feel truly comfortable around you, but eventually, it will start perching on your finger or shoulder and allowing you to pet it.
With time and patience, you can turn even the wildest pigeon into a loyal friend!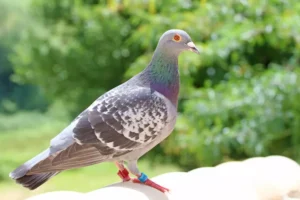 How Do You Call a Pigeon to Come to You?
If you want to call a pigeon to come to you, there are a few things you can do. First, try cooing or clucking softly. Pigeons are attracted to these sounds, so they may come closer if they hear them.

You can also try waving your arms or an object, like a piece of bread; this will help get their attention. Once the pigeon is close enough, extend your arm and let it perch on your hand or shoulder.
How Do You Impress a Pigeon?
There is no definitive answer to how to impress a pigeon, as each individual bird may have different preferences.
However, there are some general tips that may help increase your chances of winning over a pigeon. For example, try offering the bird some food that it particularly enjoys, such as seeds or berries.

You could also try gently stroking its back or head, as many pigeons enjoy being petted. If the pigeon seems interested in you, try slowly moving closer to it and see if it allows you to approach it.
Remember to always move slowly and avoid making any sudden movements, as this could startle the pigeon and cause it to fly away.
How to Tame Wild Pigeon Pet?
How to Get a Pigeon to Eat from Your Hand
If you want to get a pigeon to eat from your hand, it's important to first gain its trust.
You can do this by offering the pigeon some food from your hand, and then gradually moving your hand closer and closer to the bird until it is comfortable enough to eat directly from your palm.
Once the pigeon trusts you, it will be more likely to eat from your hand on a regular basis.
Conclusion
In order to befriend a pigeon, one must first earn its trust. This can be done by offering the bird food or water, and being patient while it gets comfortable around you.
Once the pigeon trusts you, it will allow you to pet it and may even perch on your shoulder!
{ "@context": "https://schema.org", "@type": "FAQPage", "mainEntity":[{"@type": "Question", "name": "Can I Befriend Wild Pigeons? ", "acceptedAnswer": { "@type": "Answer", "text": " Yes, you can befriend wild pigeons! Pigeons are social creatures and will readily accept humans as friends. However, it is important to approach them slowly and carefully so as not to scare them away. Once you have gained their trust, you will be able to enjoy their company and even feed them by hand." } } ,{"@type": "Question", "name": "How Do You Tame a Pigeon? ", "acceptedAnswer": { "@type": "Answer", "text": " Pigeons are one of the most common birds in cities around the world, and they have long been domesticated. While wild pigeons can be aggressive and territorial, tame pigeons are generally gentle and make good pets. If you're thinking about taming a pigeon, there are a few things you need to know. First, it's important to understand that not all pigeons can be tamed. Some birds are simply too wild or too fearful to ever become comfortable around humans. It's also worth noting that even tame pigeons can bite if they feel threatened, so always use caution when handling them. If you do find a pigeon that seems tame enough to approach, the next step is gaining its trust. This can be done by offering the bird food from your hand – try small pieces of bread or seed at first. Once the pigeon starts taking food from you, it's a good sign that it's beginning to trust you. Patience is key when taming a pigeon; don't expect results overnight. It may take days or weeks for the bird to feel truly comfortable around you, but eventually it will start perching on your finger or shoulder and allowing you to pet it. With time and patience, you can turn even the wildest pigeon into a loyal friend!" } } ,{"@type": "Question", "name": "How Do You Call a Pigeon to Come to You? ", "acceptedAnswer": { "@type": "Answer", "text": " If you want to call a pigeon to come to you, there are a few things you can do. First, try cooing or clucking softly. Pigeons are attracted to these sounds, so they may come closer if they hear them. You can also try waving your arms or an object like a piece of bread; this will help get their attention. Once the pigeon is close enough, extend your arm and let it perch on your hand or shoulder." } } ,{"@type": "Question", "name": "How Do You Impress a Pigeon? ", "acceptedAnswer": { "@type": "Answer", "text": " There is no one definitive answer to how to impress a pigeon, as each individual bird may have different preferences. However, there are some general tips that may help increase your chances of winning over a pigeon. For example, try offering the bird some food that it particularly enjoys, such as seeds or berries. You could also try gently stroking its back or head, as many pigeons enjoy being petted. If the pigeon seems interested in you, try slowly moving closer to it and see if it allows you to approach. Remember to always move slowly and avoid making any sudden movements, as this could startle the pigeon and cause it to fly away." } } ] }