Pigeons are one of the most commonly overlooked birds when it comes to pet care. Often seen as pests, these fascinating creatures can actually make great pets!
While they may not be as cuddly as a cat or dog, pigeons can be just as affectionate and bond with their owners just as easily.

Here are a few tips on how to take care of your new pet pigeon:
Choose a healthy pigeon from a reputable breeder or rescue organization
Avoid sick or injured birds, as they will require special care
Pigeons need a diet that consists of about 15-20% protein
A quality commercial pigeon feed is the best option, but you can also supplement with grains, vegetables, and fruits
Provide fresh water for your pigeon at all times
A clean water bowl or bottle should be available in the bird's cage or aviary
Pigeons typically like to bathe in shallow water dishes, so be sure to provide one if possible
Bathing helps keep feathers clean and free of debris, which can lead to health problems
Pigeons need a place to perch and sleep, so make sure their cage or aviary has plenty of horizontal bars or ledges
There should also be some vertical space for climbing and exercise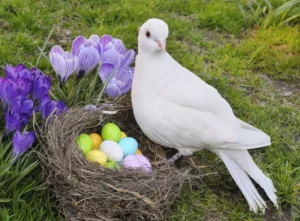 Are Pigeons Easy to Take Care Of?
Pigeons are actually very easy to take care of! All they really need is a clean, safe place to live and plenty of food and water.
Of course, you'll also need to spend some time bonding with your pigeon if you want them to be tame and friendly.

But overall, they're low-maintenance pets that can bring a lot of joy into your life.
Can You Keep a Pigeon As a Pet?
There are a variety of different domesticated pigeons that can make excellent pets. While most people think of the common city pigeon when they hear the word "pigeon," there are actually over 350 breeds of this bird!
If you're thinking about keeping a pigeon as a pet, here are a few things you should know.

Pigeons generally live 10-15 years in captivity, although some have been known to live much longer. They are social creatures and do best when kept in pairs or small groups.
Pigeons require a diet of grain, seeds, fruits, and vegetables; many pet stores sell special mixes specifically for pigeons. In addition to food and water, your pigeon will also need a place to perch and nest.
A simple cage or aviary will suffice, but make sure it is large enough for your bird to stretch its wings and move around comfortably. Pigeons are relatively low-maintenance pets, but they do require some basic care.

First and foremost, always wash your hands after handling your bird or coming into contact with its droppings – pigeons can carry diseases that are harmful to humans.
Secondly, keep an eye on your pigeon's feet; like all birds, they tend to overgrow their nails if not trimmed regularly.
Lastly, be sure to provide your pigeon with plenty of opportunities for exercise; a bored pigeon is likely to become destructive or feather-plucking (a condition where the bird literally pulls out its own feathers).

If you think a pigeon might be the right pet for you, do some research on different breeds and find one that appeals to you.
Once you have your new feathered friend home, give it time to adjust to its new surroundings before trying to handle it too much; once it gets used to you, however, bonding with your pigeon can be a truly rewarding experience!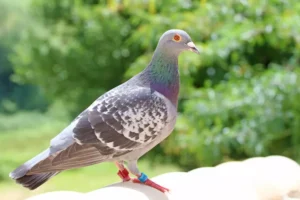 How Do You Keep Pigeons for Beginners?
Pigeons are interesting and unique birds that can make great pets. If you're thinking about keeping pigeons as pets, there are a few things you should know to get started.
First, pigeons need a large cage or aviary. They also require plenty of perches and toys to keep them entertained. Pigeons are social creatures and do best when kept in pairs or small groups, so be sure to get at least two birds.
Second, pigeons need a diet high in proteins and grains. A good quality pigeon food will have all the nutrients your bird needs. You can supplement their diet with fresh fruits and vegetables as well.
Third, pigeons require regular exercise to stay healthy. Letting them out of their cage to fly around is the best way to provide this, but if you don't have an outdoor space, you can set up an indoor flight area for them instead.
Just be sure it's safe and secure so they can't escape! If you're considering keeping pigeons as pets, these tips will help you get started on the right foot.

With proper care and attention, your feathered friends will thrive in your home and provide years of enjoyment!
How Do You Get a Pigeon to Trust You?
If you want to get a pigeon to trust you, the best thing to do is to slowly and patiently approach it.
Pigeons are naturally distrustful of humans, so it will take some time for the bird to warm up to you. Talk softly to the pigeon as you move closer, and offer it some food from your hand once you're close enough.

With time and patience, the pigeon should eventually start trusting you.
What You Need to Know Before Getting a Pet Pigeon!!!
How to Take Care of an Injured Pigeon?
If you find an injured pigeon, the best thing to do is to take it to a veterinarian or wildlife rehabilitator as soon as possible.
If you can't do that, there are some things you can do to care for the pigeon until you can get help. First, make sure the area where the pigeon is staying is quiet and safe from predators.

You'll also need to provide food and water. Pigeons eat a variety of things, but grain or birdseed mixed with water is a good option.
Make sure the food and water are in a shallow dish, so the pigeon can reach them easily.

You should also keep an eye on the pigeon's injuries and clean them as necessary. Gently wipe away any dirt or debris with a clean cloth soaked in warm water.
Don't use anything else on the wounds – no ointments or antiseptics – as this could further injure the pigeon. Finally, just be patient and wait for help to arrive. Injured pigeons can recover quickly if they're given proper care, so don't give up hope!
Conclusion
Pigeons are gentle, intelligent birds that make great pets. They are relatively easy to care for, but there are a few things you need to know to keep your pigeon healthy and happy.
Pigeons need a spacious cage or aviary with plenty of room to fly and exercise.

The cage should be made of strong wire mesh and have a solid floor; avoid using sand or gravel as a flooring material, as it can irritate a pigeon's feet.
Place the cage in an area where your pigeon will get plenty of fresh air and natural sunlight. Pigeons require a diet that is high in protein and low in fat.

A good quality commercial pigeon food will provide all the nutrients your bird needs, but you can also supplement its diet with some chopped vegetables or fruits.
Always provide fresh water for your pigeon to drink. Pigeons enjoy bathing, so be sure to include a shallow dish of water in their cage for them to splash around in.

You can also give your pigeon occasional showers with lukewarm water; just be sure not to use any soap or other cleaning products as these can be harmful to birds.
Regular handling and interaction with your pigeon is important for keeping it tame and socialized. Gently stroke its back and head, and offer it treats such as seeds or bits of fruit to eat from your hand.

Pigeons are very social creatures, so it's best to keep them in pairs or small groups; if you only have one bird, make sure you spend extra time bonding with it.
{ "@context": "https://schema.org", "@type": "FAQPage", "mainEntity":[{"@type": "Question", "name": "Are Pigeons Easy to Take Care Of? ", "acceptedAnswer": { "@type": "Answer", "text": " Pigeons are actually very easy to take care of! All they really need is a clean, safe place to live and plenty of food and water. Of course, you'll also need to spend some time bonding with your pigeon if you want them to be tame and friendly. But overall, they're low-maintenance pets that can bring a lot of joy into your life." } } ,{"@type": "Question", "name": "Can You Keep a Pigeon As a Pet? ", "acceptedAnswer": { "@type": "Answer", "text": " There are a variety of different domesticated pigeons that can make excellent pets. While most people think of the common city pigeon when they hear the word "pigeon," there are actually over 350 breeds of this bird! If you're thinking about keeping a pigeon as a pet, here are a few things you should know. Pigeons generally live 10-15 years in captivity, although some have been known to live much longer. They are social creatures and do best when kept in pairs or small groups. Pigeons require a diet of grain, seeds, fruits, and vegetables; many pet stores sell special mixes specifically for pigeons. In addition to food and water, your pigeon will also need a place to perch and nest. A simple cage or aviary will suffice, but make sure it is large enough for your bird to stretch its wings and move around comfortably. Pigeons are relatively low-maintenance pets, but they do require some basic care. First and foremost, always wash your hands after handling your bird or coming into contact with its droppings – pigeons can carry diseases that are harmful to humans. Secondly, keep an eye on your pigeon's feet; like all birds, they tend to overgrow their nails if not trimmed regularly. Lastly, be sure to provide your pigeon with plenty of opportunities for exercise; a bored pigeon is likely to become destructive or feather-plucking (a condition where the bird literally pulls out its own feathers). If you think a pigeon might be the right pet for you, do some research on different breeds and find one that appeals to you. Once you have your new feathered friend home, give it time to adjust to its new surroundings before trying to handle it too much; once it gets used to you, however, bonding with your pigeon can be a truly rewarding experience!" } } ,{"@type": "Question", "name": "How Do You Keep Pigeons for Beginners? ", "acceptedAnswer": { "@type": "Answer", "text": " Pigeons are interesting and unique birds that can make great pets. If you're thinking about keeping pigeons as pets, there are a few things you should know to get started. First, pigeons need a large cage or aviary. They also need plenty of perches and toys to keep them entertained. Pigeons are social creatures and do best when kept in pairs or small groups, so be sure to get at least two birds. Second, pigeons need a diet high in proteins and grains. A good quality pigeon food will have all the nutrients your bird needs. You can supplement their diet with fresh fruits and vegetables as well. Third, pigeons require regular exercise to stay healthy. letting them out of their cage to fly around is the best way to provide this, but if you don't have an outdoor space, you can set up an indoor flight area for them instead. Just be sure it's safe and secure so they can't escape! If you're considering keeping pigeons as pets, these tips will help you get started on the right foot. With proper care and attention, your feathered friends will thrive in your home and provide years of enjoyment!" } } ,{"@type": "Question", "name": "How Do You Get a Pigeon to Trust You? ", "acceptedAnswer": { "@type": "Answer", "text": " If you want to get a pigeon to trust you, the best thing to do is to slowly and patiently approach it. Pigeons are naturally distrustful of humans, so it will take some time for the bird to warm up to you. Talk softly to the pigeon as you move closer, and offer it some food from your hand once you're close enough. With time and patience, the pigeon should eventually start trusting you." } } ] }