Hummingbirds are an enigmatic group of birds recognized for their rapid flight and iridescent plumage. Their behavior is as captivating as their appearance, with some activities that may leave you puzzled. For example, why would a hummingbird choose to just sit on a feeder, instead of busying itself with its usual activities?
This tendency is due to several factors ranging from energy conservation, territorial vigilance, to signs of distress. Each hummingbird's behavior at the feeder tells a unique tale, offering an intimate glimpse into its life.
Despite their tiny size, hummingbirds lead lives full of intrigue and surprise. Their behavior, including resting on feeders, reveals their survival strategies and lifestyle adaptations.
Hummingbirds and their Feeding Habits
Typical Hummingbird Diet
Hummingbirds, known for their quick and vibrant movements, consume energy at a breathtakingly fast rate. Their primary source of energy comes from the sweet nectar of flowers, which is rich in sugar. As a dietary staple, this natural sweetener fuels their ceaseless activity, including their impressive in-flight acrobatics.
Despite the fact that nectar forms the cornerstone of their diet, hummingbirds are not exclusive nectarivores. For protein, essential amino acids, and other nutrients like fat and vitamins, they turn to a different food source – small insects and spiders. Insects not only provide a rich protein supplement, but they also add variety to their primarily sweet diet.
Frequency of Feeding in a Day
Hummingbirds, with their extreme metabolic demands, have to feed on a frequent basis. In fact, their metabolism is so fast that they are constantly just hours away from starving. To put it in perspective, if a human had a metabolism similar to a hummingbird, they'd have to consume an equivalent of around 155,000 calories a day!
To meet these demanding energy requirements, hummingbirds spend a significant chunk of their waking hours feeding. They may visit hundreds, sometimes thousands, of flowers in a day, drinking up to twice their body weight in nectar. This frequent feeding pattern is also why they are often seen zipping from flower to flower or feeder to feeder.
Role of Feeders in Hummingbird Nutrition
Feeders offer a readily available source of nutrition for hummingbirds, particularly in settings where natural floral resources are scarce or seasonal. They provide a steady supply of sugar water solution, which mimics the natural nectar they would find in flowers.
Feeders, when placed in gardens or near windows, give bird enthusiasts an opportunity to observe these fascinating creatures up close. However, it's crucial to ensure that the sugar-water solution used in feeders matches the sugar concentration in natural nectar (about 20-30%) and does not contain any harmful additives.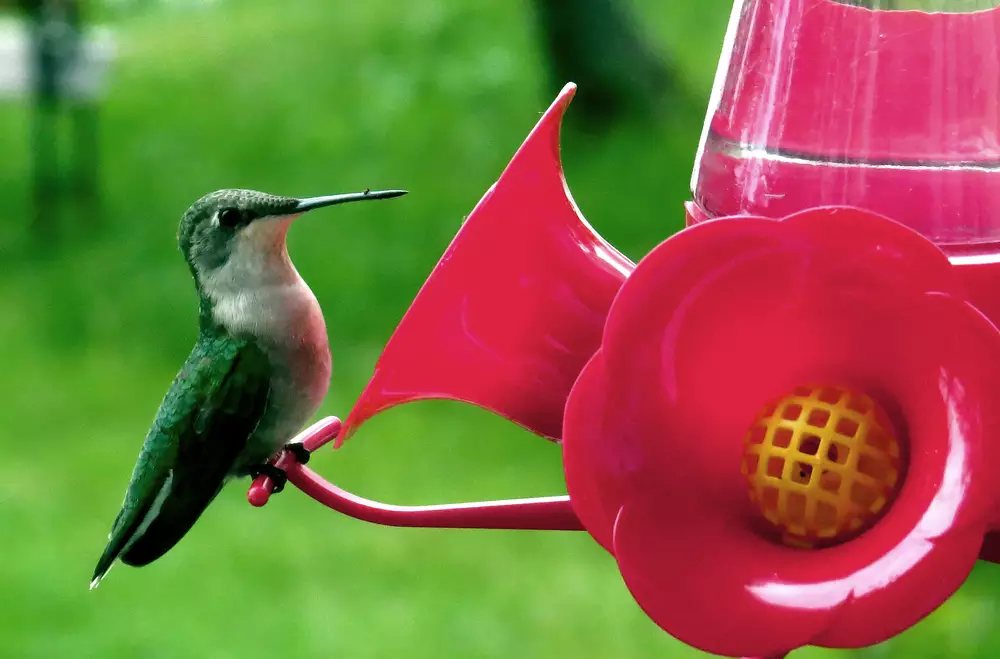 Hummingbirds at Rest on Feeders: Reasons
Energy Conservation
One key reason why you might see a hummingbird just sitting on a feeder is to conserve energy. Given their extraordinarily high metabolic rates, rest periods are crucial for hummingbirds. They can often be seen taking quick power naps on branches, and feeders provide a similar opportunity. A perch on the feeder allows them to keep fueling up while also getting a brief respite.
Territory Marking and Vigilance
Hummingbirds can be fiercely territorial, especially when it comes to defending their food sources. A hummingbird might sit on a feeder to guard it from competitors, using this vantage point to chase away intruders. This behavior is particularly common during breeding seasons when the pressure to secure and defend resources increases.
Illness or Injury
While less common, a hummingbird may rest on a feeder due to illness or injury. An unwell bird may lack the energy to fly, preferring instead to remain on the feeder. If a bird seems to be spending an excessive amount of time on the feeder, shows signs of difficulty flying, or appears fluffed up, it might be a cause for concern.
Aging and Maturity
Older hummingbirds, or those that have just left the nest, may spend more time sitting on feeders. As hummingbirds age, they may lack the energy of their younger counterparts and take more rest periods. Similarly, young fledglings, still building their flight strength, may find it easier to remain perched while feeding.
Environmental Factors Impacting Feeder Behavior
Weather Conditions
Weather plays a significant role in hummingbird behavior. During colder temperatures, hummingbirds need to consume more energy to maintain their body heat. You may see them resting more frequently on feeders during these times as they try to intake as much energy as possible.
Availability of Natural Food Sources
The availability of natural food sources, or lack thereof, can influence feeder behavior. When floral nectar is abundant, hummingbirds may not need to rely heavily on feeders. Conversely, in periods of scarcity, feeders become a crucial lifeline, and you may notice hummingbirds perched on them more often.
Migration Patterns
Migration periods are demanding times for hummingbirds, requiring them to store and expend large amounts of energy. During these times, you may notice an increase in feeder visits and perch time as hummingbirds refuel for their journey.
How to Support Resting Hummingbirds
Setting Up Appropriate Feeders
The type of feeder you set up can make a big difference in attracting and accommodating hummingbirds. Feeders with perches are particularly beneficial as they allow hummingbirds to rest while they feed. It's also essential to place the feeder in a safe location, away from predators and strong winds.
Maintaining and Cleaning Feeders
Cleanliness is crucial when it comes to hummingbird feeders. Old or fermented sugar water can harm the birds, so regular cleaning and refilling are necessary. A good rule of thumb is to clean and refill the feeder every 2-3 days, or daily in hot weather.
Providing a Safe Environment
A safe environment goes a long way in supporting hummingbirds. This includes setting up feeders at a safe height, planting native flowering plants for natural food sources, and ensuring the space is predator-free.
When to Seek Help for a Hummingbird
Signs of Distress in Hummingbirds
If a hummingbird is spending too much time on a feeder, appears injured, or displays unusual behavior, it might be in distress. Some signs to look out for include a fluffed-up appearance, visible injuries, difficulty flying, or being easily approachable.
Local Wildlife Resources and Rehabilitation
Should you find a hummingbird in distress, it's essential to contact a local wildlife rehabilitator or bird rescue organization. They have the necessary expertise to care for and rehabilitate injured or sick birds.
Frequently Asked Questions
How can I attract more hummingbirds to my feeder?
Maintain clean feeders with fresh sugar water and consider hanging multiple feeders to accommodate more birds. Planting native flowering plants can also make your yard more attractive to hummingbirds.
Why do hummingbirds fight at feeders?
Hummingbirds are known to be territorial, especially around food sources. They may engage in aerial fights to guard their feeding territories, particularly during breeding seasons.
Why is a hummingbird hovering around but not feeding?
This could be due to a few reasons. The hummingbird might be guarding its territory, or there could be an issue with the feeder, such as it being empty or not clean.
Conclusion
Hummingbirds are creatures of captivating charm and frenetic energy. Their vibrant colors and quick movements hold us spellbound, while their behaviors tell intriguing tales of adaptation and survival. Their actions, such as resting on a feeder, are not merely whimsical quirks, but driven by necessity and instinct.
When we observe a hummingbird at rest on a feeder, we're privy to a side of avian life that's every bit as captivating as their high-speed pursuits. Whether it's to guard their food source, conserve precious energy, or rest an aged or injured body, every pause carries a purpose.