If you're looking for a feathered friend, a lovebird might be the perfect pet for you. These small parrots are known for their affectionate nature and bond well with their human companions. But before you bring home a lovebird, there are a few things to consider.

Here's what you need to know about where to buy a lovebird.
Do you have your heart set on a lovebird, but don't know where to buy one? Here are a few tips to help you find the perfect place to purchase your new feathered friend. One option is to check your local pet store.

Many stores carry lovebirds and can be a great place to start your search. However, it's important to remember that not all pet stores are created equal. Some may not have the best selection of birds, or may not have any lovebirds at all.

It's always best to call ahead and ask if they currently have any lovebirds in stock before making a special trip. Another great option is an online bird retailer such as The Finch Farm. This can be a great way to get exactly the type of lovebird you're looking for, as well as get it delivered right to your door.

However, it's important to do your research on any online retailer before making a purchase, as there are unfortunately some scammers out there who prey on unsuspecting bird buyers.
If you want to adopt a rescue bird instead of purchasing one from a breeder or pet store, there are many reputable organizations that can help you find the perfect match. One such organization is Rescue Me!

Lovebird Rescue has locations across the United States and Canada. Adopting a rescue bird comes with its own unique set of challenges and rewards, so be sure you're prepared for what lies ahead before taking this route.
No matter where you decide to buy your lovebird from, remember that this is a lifetime commitment – these birds can live up to 20 years or more!

So do your homework beforehand and choose wisely – your new feathered friend will thank you for it!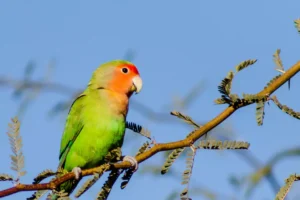 How Much Do Lovebirds Cost?
When it comes to lovebirds, there is no definitive answer to the question of how much they cost.
This is because the price of a lovebird can vary depending on a number of different factors, such as where you purchase them from, what species of lovebird you buy, and whether or not they are already paired up with another lovebird.
Generally speaking, however, you can expect to pay anywhere from $50 to $200 for a healthy pet lovebird.

If you are looking for a specific species of lovebird, such as Fischer's Lovebird or the Black-Collared Lovebird, you may have to pay slightly more than this.
And if you want your lovebirds to come as a ready-made pair, be prepared to shell out even more money,  sometimes upwards of $400! Of course, the initial cost of purchasing your lovebirds is only part of the equation.

You will also need to factor in the ongoing costs associated with keeping them healthy and happy, which include things like food, toys, and cage accessories.
When all is said and done, you should expect to spend at least $500 per year on your beloved birds – but it will be worth every penny when you see them bonding and playing together!
How Can I Buy Love Birds?
When it comes to buying love birds, there are a few things you need to keep in mind. Firstly, make sure you do your research and buy from a reputable breeder. There are many breeders out there who claim to sell love birds, but not all of them are created equal.

Do your homework and find a good one that you can trust. Once you've found a reputable breeder, the next step is to decide what type of lovebird you'd like to buy.
There are many species of love birds available, so take some time to learn about each one before making your final decision.

Once you've decided on the type of bird you want, the breeder will help you choose the right bird for you based on personality and appearance.
After selecting your lovebird, the next step is to purchase a cage that's big enough for him or her to live comfortably in. It's important to get a cage that's made specifically for love birds since they have special needs when it comes to housing.

Make sure the cage has plenty of room for your bird to move around and flap his or her wings, as well as plenty of toys and perches for climbing and playing. Last but not least, don't forget about food and water!
Love birds need a diet that consists mainly of pellets or seeds, along with fresh fruits and vegetables.

Be sure to provide clean water at all times as well. With these simple tips in mind, buying love birds can be easy and fun!
Can You Buy a Single Lovebird?
Yes, you can buy a single lovebird. In fact, many people choose to buy just one lovebird instead of a pair. There are several reasons why someone might do this.

For example, they may not have enough space for two birds, or they may want to avoid the hassle of having to care for two birds. Additionally, single lovebirds can be just as happy and healthy as pairs of lovebirds.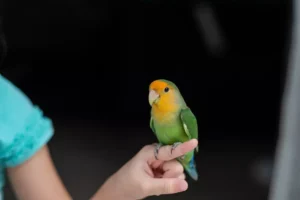 Should I Get 1 Or 2 Lovebirds?
There's no definitive answer to this question, it depends on your individual circumstances and what you're looking for in a pet. If you're only interested in having one lovebird, then obviously getting just one is the way to go.
However, if you're open to the idea of owning two lovebirds, there are a few things you should consider before making your decision.

One of the main reasons people opt for two lovebirds instead of just one is because they want their birds to have a buddy to socialize with. Lovebirds are very social creatures and do their best when they have another bird to interact with on a regular basis.
If you're only planning on having one bird, be prepared to give them plenty of attention yourself, otherwise, they may become bored or lonely.

Another thing to keep in mind is that two lovebirds will need twice as much space as just one, so make sure you have enough room in your home (and budget!) to accommodate them both.
They'll also require more time and effort when it comes to care and maintenance, such as cleaning out their cage more often.
Ultimately, whether or not you get one or two lovebirds comes down to personal preference. There's no right or wrong answer.

Just be sure to do your research beforehand so that you know what you're getting into!
Where to Buy Lovebirds near Me?
If you're looking for a lovebird, your best bet is to check your local pet store. However, if you're unable to find one near you, there are several online retailers that sell lovebirds.
When choosing a lovebird, it's important to consider its age, health, and personality.

It's also important to make sure the bird is compatible with your lifestyle and home environment. Before buying a lovebird, be sure to do your research and ask lots of questions.
This will help ensure that you find the perfect bird for you and your family!
Conclusion
If you're considering adding a lovebird to your family, you may be wondering where to buy one. While you can find lovebirds for sale at many pet stores, there are also a number of reputable breeders who specialize in these charming little birds.
In this article, we'll help you decide where to buy a lovebird based on your budget and needs.
{ "@context": "https://schema.org", "@type": "FAQPage", "mainEntity":[{"@type": "Question", "name": "How Much Do Lovebirds Cost? ", "acceptedAnswer": { "@type": "Answer", "text": " When it comes to lovebirds, there is no one definitive answer to the question of how much they cost. This is because the price of a lovebird can vary depending on a number of different factors, such as where you purchase them from, what species of lovebird you buy, and whether or not they are already paired up with another lovebird. Generally speaking, however, you can expect to pay anywhere from $50 to $200 for a healthy pet lovebird. If you are looking for a specific species of lovebird, such as the Fischer's Lovebird or the Black-Collared Lovebird, you may have to pay slightly more than this. And if you want your lovebirds to come as a ready-made pair, be prepared to shell out even more money – sometimes upwards of $400! Of course, the initial cost of purchasing your lovebirds is only part of the equation. You will also need to factor in the ongoing costs associated with keeping them healthy and happy, which include things like food, toys and cage accessories. When all is said and done, you should expect to spend at least $500 per year on your beloved birds – but it will be worth every penny when you see them bonding and playing together!" } } ,{"@type": "Question", "name": "How Can I Buy Love Birds? ", "acceptedAnswer": { "@type": "Answer", "text": " When it comes to buying love birds, there are a few things you need to keep in mind. First of all, make sure you do your research and buy from a reputable breeder. There are many breeders out there who claim to sell love birds, but not all of them are created equal. Do your homework and find a good one that you can trust. Once you've found a reputable breeder, the next step is to decide what type of love bird you'd like to buy. There are many different species of love birds available, so take some time to learn about each one before making your final decision. Once you've decided on the type of bird you want, the breeder will help you choose the right bird for you based on personality and appearance. After choosing your love bird, the next step is to purchase a cage that's big enough for him or her to live comfortably in. It's important to get a cage that's made specifically for love birds since they have special needs when it comes to housing. Make sure the cage has plenty of room for your bird to move around and flap his or her wings, as well as plenty of toys and perches for climbing and playing. Last but not least, don't forget about food and water! Love birds need a diet that consists mainly of pellets or seeds, along with fresh fruits and vegetables. Be sure to provide clean water at all times as well. With these simple tips in mind, buying love birds can be easy and fun!" } } ,{"@type": "Question", "name": "Can You Buy a Single Lovebird? ", "acceptedAnswer": { "@type": "Answer", "text": " Yes, you can buy a single lovebird. In fact, many people choose to buy just one lovebird instead of a pair. There are several reasons why someone might do this. For example, they may not have enough space for two birds or they may want to avoid the hassle of having to care for two birds. Additionally, single lovebirds can be just as happy and healthy as pairs of lovebirds." } } ,{"@type": "Question", "name": "Should I Get 1 Or 2 Lovebirds? ", "acceptedAnswer": { "@type": "Answer", "text": " There's no definitive answer to this question – it depends on your individual circumstances and what you're looking for in a pet. If you're only interested in having one lovebird, then obviously getting just one is the way to go. However, if you're open to the idea of owning two lovebirds, there are a few things you should consider before making your decision. One of the main reasons people opt for two lovebirds instead of just one is because they want their birds to have a buddy to socialize with. Lovebirds are very social creatures and do best when they have another bird to interact with on a regular basis. If you're only planning on having one bird, be prepared to give them plenty of attention yourself – otherwise they may become bored or lonely. Another thing to keep in mind is that two lovebirds will need twice as much space as just one – so make sure you have enough room in your home (and budget!) to accommodate them both. They'll also require more time and effort when it comes to care and maintenance, such as cleaning out their cage more often. Ultimately, whether or not you get one or two lovebirds comes down to personal preference – there's no right or wrong answer. Just be sure to do your research beforehand so that you know what you're getting into!" } } ] }