If you're one of the many people who enjoy the beauty of hummingbirds flocking to your backyard, you may also be familiar with the annoyance of wasps.
Fortunately, there are a few things you can do to keep these pests away from your beloved feeders. By following these simple tips, you can continue to enjoy hummingbirds without the hassle of wasps!
Fill a bowl with water and add a few drops of dish soap
Place the bowl near your hummingbird feeder
Wasps will be attracted to the sweet nectar in the feeder, but they will drown in the soapy water when they land on it
Repeat as necessary until the wasps are gone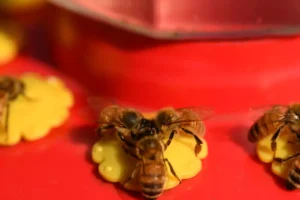 How Do I Get Rid of Wasps around My Hummingbird Feeder?
If you have a problem with wasps around your hummingbird feeder, there are a few things you can do to get rid of them. One option is to buy a wasp trap and place it near the feeder.
Another option is to make your own trap by filling a container with sugar water and adding a drop or two of dish soap.

The soap will break the surface tension of the water, causing the wasps to drown. You can also try hanging up a piece of fruit near the feeder as bait for the wasps.
Once they're attracted to the fruit, they won't be as interested in the nectar in the feeder.
How Do You Keep Bees And Wasps Away from Hummingbird Feeders?
Bees and wasps are attracted to the sugary solution in hummingbird feeders. To keep them away, you can try one of several methods.
You can purchase a feeder that has a bee guard, which is a screen that fits over the feeding ports and prevents bees from accessing the nectar.

You can also make your own bee guards by cutting small circles out of stiff wire mesh or plastic screen and attaching them to the outside of the feeding ports with tape or glue.
Another method is to coat the outside of the feeder with petroleum jelly or cooking spray. The bees and wasps will be unable to grip the surface and will fall off when they try to land.

Be sure to reapply every few days, as this method will wear off over time.
Finally, you can hang your hummingbird feeder from a shepherd's hook or tree branch using a fishing line or monofilament so that it swings freely in the breeze.
The movement will deter bees and wasps from landing on the feeder long enough to drink, as they prefer stationary surfaces.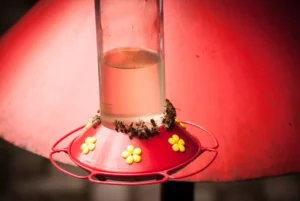 Can Wasps Hurt Hummingbirds?
Yes, wasps can hurt hummingbirds. While wasps are not naturally attracted to hummingbirds, they will attack them if they feel threatened or if they are trying to protect their nests.
Wasps have been known to sting and kill hummingbirds.
Will Wasps Run off Hummingbirds?
No, wasps will not run off hummingbirds. In fact, they are attracted to the same types of flowers that hummingbirds visit.
Wasps are also attracted to the sweetness of nectar and may hover around a flower for a while before moving on.
Keeping Ants, Bees, Hornets & Wasps off of Hummingbird Feeders
How to Make Bee Guards for Hummingbird Feeders?
In order to make a bee guard for a hummingbird feeder, you will need the following supplies:
A piece of screen material (you can find this at a hardware store)
A pair of scissors
A hot glue gun
Bee guards (these can also be found at a hardware store, and come in different sizes to fit different types of feeders)
Cut the screen material into a circle that is slightly larger than the bee guard. Use the hot glue gun to attach the screen material to the bee guard.
Make sure that there are no gaps or openings around the edge of the screen; if there are, bees will be able to get through. Once the glue has dried, your bee guard is ready to use!

Place it on top of your hummingbird feeder, and enjoy watching the birds without worrying about bees getting in.
Conclusion
If you have a hummingbird feeder, chances are you've also had some unwanted guests in the form of wasps. Wasps are attracted to sweet nectar just like hummingbirds, but they can quickly become a nuisance.
There are a few things you can do to deter wasps from your feeder, though, and keep them away for good.

One way to keep wasps away is to use a feeder that has yellow or red flowers on it. The color yellow is known to discourage wasps, so they're less likely to be drawn to your feeder if it has yellow flowers on it.
Another way to keep wasps at bay is by adding a bit of vinegar to the nectar solution.

Wasps don't like the smell of vinegar, so this will help keep them away. Finally, make sure that your feeder is clean and free of any leaks or drips.
Wasps are attracted to sweet smells, so if there's anything sweet-smelling coming from your feeder, they'll be drawn to it.

By following these simple tips, you can enjoy your hummingbird feeder without having to worry about pesky wasps!
{ "@context": "https://schema.org", "@type": "FAQPage", "mainEntity":[{"@type": "Question", "name": "How Do I Get Rid of Wasps around My Hummingbird Feeder? ", "acceptedAnswer": { "@type": "Answer", "text": " If you have a problem with wasps around your hummingbird feeder, there are a few things you can do to get rid of them. One option is to buy a wasp trap and place it near the feeder. Another option is to make your own trap by filling a container with sugar water and adding a drop or two of dish soap. The soap will break the surface tension of the water, causing the wasps to drown. You can also try hanging up a piece of fruit near the feeder as bait for the wasps. Once they're attracted to the fruit, they won't be as interested in the nectar in the feeder."