Messenger pigeons have been used for centuries to relay messages between people. These birds are specially bred and trained to deliver messages quickly and accurately.
If you want to train a messenger pigeon, there are a few things you need to do. First, you need to get a young bird that is about 6-8 weeks old.
Next, you need to tame the bird and get it used to be around people. Once the bird is tame, you can start training it to deliver messages.
Acquire a messenger pigeon. These birds can be bought from breeders or rescued from shelters.
Choose a quiet place to train your pigeon. Start with short training sessions and gradually increase the length of time as the bird gets used to you and its new surroundings.
Get the pigeon accustomed to wearing a message capsule on its leg. Place a small piece of paper inside the capsule so the bird gets used to the sensation of carrying something on its leg.
Train the pigeon to fly back to you from short distances away, gradually increasing the distance as the bird becomes more comfortable flying back and forth between you
Reward your pigeon with food or treats when it returns successfully so it associates coming back to you with positive reinforcement
Once your pigeon is trained, you can start using it to deliver messages!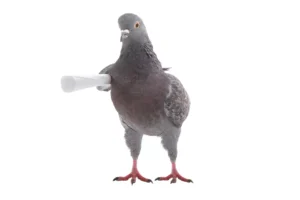 How Long Does It Take to Train Messenger Pigeons?
Messenger pigeons, also called carrier pigeons, are a type of homing pigeon. They are specially bred and trained to carry messages over long distances. The process of training messenger pigeons typically takes several months.

First, the birds must be taught to recognize their handler and follow basic commands. Then, they must be slowly introduced to longer journeys, until they are able to fly for up to several hundred miles at a time.
During training, the birds are usually fed a special diet that includes high-energy foods like grain and sunflower seeds.

This helps them build up the strength and endurance they need for long flights. Once messenger pigeons are fully trained, they can be used for a variety of purposes, including delivering important messages during times of war or disaster.
How Do a Messenger Pigeons Know Where to Go?
Pigeons have an innate homing ability that enables them to return to their nest, even if it is moved. This ability is thought to be linked to the pigeons' ability to orient themselves using the Earth's magnetic field.
Experiments have shown that if a pigeon's sense of smell is impaired, it will still be able to find its way home, but it will take longer and the bird will become lost more easily.
Can Pigeons Be Trained to Deliver Messages?
Yes, pigeons can be trained to deliver messages. The most famous example is the Royal Pigeon Service, which was used during World War I and II to deliver messages between the British Army and Navy.
More recently, pigeons have been used to deliver medical supplies to remote areas in Africa and Asia.
How Do You Train a Pigeon to Come to You?
Pigeons are social animals and can be trained to come to you for food or attention. The process is similar to training a dog, but it may take longer as pigeons are not as easily motivated by treats.
To start, choose a quiet place where you will not be disturbed and have some patience.

The first step is to gain the pigeon's trust. This can be done by offering it food from your hand or feeding it on a schedule. Once the pigeon trusts you, it will start to follow you around and come when called.

The next step is to teach the pigeon basic commands such as "come," "sit," and "stay." These can be done with hand signals or verbal cues.
As with any animal, rewards such as treats or praise should be given when the pigeon obeys a command.

With time and patience, you can train your pigeon to do tricks or even deliver messages. Pigeons have been used for centuries for messenger services, so they are capable of learning complex tasks.
However, most people simply enjoy having a well-trained pet bird that will come when called and provide companionship.
How do Messenger pigeons know where to go?
What Can Pigeons Be Trained to Do?
Pigeons are one of the oldest domesticated birds and have been used for a variety of purposes throughout history.
Today, pigeons are still used for racing, as well as other activities such as target shooting and messenger service. Pigeons can also be trained to do tricks, which makes them popular pets.

Most people think of pigeons as dirty birds that carry diseases, but this is not true. Pigeons are actually very clean animals and are less likely to carry diseases than many other domesticated animals such as dogs and cats.
In addition, pigeons have a good memory and can be trained to do a variety of tasks.

One of the most popular uses for trained pigeons is the messenger service. During World War I, pigeons were used to deliver messages between soldiers in the trenches and headquarters.
Pigeons were also used extensively during World War II when they were again used to carry messages between troops in the field and command centers.

Today, there are still companies that use pigeons to deliver important messages; in fact, some mail carriers in parts of the world still use them instead of horses or cars!
Pigeon racing is another popular activity that makes use of these intelligent birds. Racing pigeons can fly up to speeds of 100 miles per hour (160.93 kilometers per hour), making them much faster than even the fastest delivery truck or car!

Pigeon races often take place over long distances, with the birds being released from one location and then flying back home to their loft – sometimes hundreds of miles away!
The first person whose pigeon returns home wins the race. Target shooting with live pigeons was once a popular sport in Europe; however, it has since been outlawed in most countries due to animal welfare concerns.

Although no longer widely practiced, there are still some people who engage in this activity – usually using clay targets instead of living birds. Finally, many people keep pet pigeons because they enjoy watching them perform tricks.
Conclusion
Pigeons have been used for messenger purposes since ancient times, and they are still used today in some parts of the world.
If you want to train a messenger pigeon, there are a few things you need to do. First, you need to get a young pigeon that is about 6-8 weeks old.

Next, you will need to build a coop for the pigeon and place it in an area where there are no other pigeons.
You will also need to train the pigeon to come to you when called and to perch on your finger. Once the pigeon is trained, you can then attach a message to its leg and release it.

The pigeon will then fly to its destination and deliver the message.
{ "@context": "https://schema.org", "@type": "FAQPage", "mainEntity":[{"@type": "Question", "name": "How Long Does It Take to Train Messenger Pigeons? ", "acceptedAnswer": { "@type": "Answer", "text": " Messenger pigeons, also called carrier pigeons, are a type of homing pigeon. They are specially bred and trained to carry messages over long distances. The process of training messenger pigeons typically takes several months. First, the birds must be taught to recognize their handler and follow basic commands. Then, they must be slowly introduced to longer journeys, until they are able to fly for up to several hundred miles at a time. During training, the birds are usually fed a special diet that includes high-energy foods like grain and sunflower seeds. This helps them build up the strength and endurance they need for long flights. Once messenger pigeons are fully trained, they can be used for a variety of purposes, including delivering important messages during times of war or disaster." } } ,{"@type": "Question", "name": "How Does a Messenger Pigeons Know Where to Go? ", "acceptedAnswer": { "@type": "Answer", "text": " Pigeons have an innate homing ability that enables them to return to their nest, even if it is moved. This ability is thought to be linked to the pigeons' ability to orient themselves using the Earth's magnetic field. Experiments have shown that if a pigeon's sense of smell is impaired, it will still be able to find its way home, but it will take longer and the bird will become lost more easily." } } ,{"@type": "Question", "name": "Can Pigeons Be Trained to Deliver Messages? ", "acceptedAnswer": { "@type": "Answer", "text": " Yes, pigeons can be trained to deliver messages. The most famous example is the Royal Pigeon Service which was used during World War I and II to deliver messages between the British Army and Navy. More recently, pigeons have been used to deliver medical supplies to remote areas in Africa and Asia." } } ,{"@type": "Question", "name": "How Do You Train a Pigeon to Come to You? ", "acceptedAnswer": { "@type": "Answer", "text": " Pigeons are social animals and can be trained to come to you for food or attention. The process is similar to training a dog, but it may take longer as pigeons are not as easily motivated by treats. To start, choose a quiet place where you will not be disturbed and have some patience. The first step is to gain the pigeon's trust. This can be done by offering it food from your hand or feeding it on a schedule. Once the pigeon trusts you, it will start to follow you around and come when called. The next step is to teach the pigeon basic commands such as come, sit, and stay. These can be done with hand signals or verbal cues. As with any animal, rewards such as treats or praise should be given when the pigeon obeys a command. With time and patience, you can train your pigeon to do tricks or even deliver messages. Pigeons have been used for centuries for messenger service, so they are capable of learning complex tasks. However, most people simply enjoy having a well-trained pet bird that will come when called and provide companionship." } } ] }