Pigeons are relatively easy to breed and can make great pets. They are also very interesting birds and can be quite beautiful. Here is a basic guide on how to breed pigeons.
First, you will need a pair of pigeons. It is best to get two young birds that are not related to each other. Pigeons can mate for life, so once you have found a good pair, it is best to keep them together.
You will also need a cage or aviary for the pigeons. The cage should be large enough for the pigeons to fly around in, and should have perches and nesting boxes for them to use.
Once you have your pigeons and their home set up, you will need to provide them with food and water.

Pigeons eat mostly grains, but also like some vegetables and fruits. You can buy special pigeon feed at most pet stores.
First, you need to find a male and female pigeon that you want to breed
Next, you will need to build a nest for the pigeons
This can be done by using a basket or something similar
Once the nest is built, place the female pigeon in the nest and let the male pigeon do its job
After the deed is done, remove the male pigeon from the nest and let the female take care of her eggs
Once the eggs hatch, you will need to feed the baby pigeons until they are old enough to fend for themselves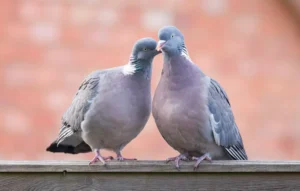 How Do You Breed New Pigeons?
Pigeons are not typically bred for new blood. The primary exception to this is when a new strain or color of pigeon is needed for show purposes.
In these cases, specific birds are chosen to be bred together in order to produce the desired outcome.
Aside from that, breeding pigeons is generally done within the same flock in order to maintain good health and vigor in the birds. Healthy pigeons will typically mate and produce offspring without issue.
It is only when there are health problems present that outside intervention may be necessary.
Is It Hard to Breed Pigeons?
No, it is not hard to breed pigeons. Pigeons are monogamous and will mate for life if given the chance. They are very good parents and will take care of their young until they are able to fend for themselves.

The biggest challenge when breeding pigeons is finding a suitable nesting site as they will not nest just anywhere.
How Long Does It Take for Pigeon to Mate?
Pigeons are monogamous and will mate for life. The male will court the female by bowing, cooing and nibbling her neck. Once they have mated, the pair will build a nest together and take turns incubating the eggs.

It usually takes around 18 days for the eggs to hatch.
What is the Best Food for Breeding Pigeons?
There is no definitive answer when it comes to what the best food is for breeding pigeons.
However, there are certain foods that can be beneficial for breeding pigeons and helping them to produce healthy offspring.
Some of the best foods for breeding pigeons include:
Grain: Grain is an excellent source of energy for pigeons and can help to keep them healthy and active. It is also high in protein, which is essential for growth and development.
Vegetables: Vegetables are a good source of vitamins and minerals, which are important for pigeon health. They can also help to ensure that the pigeon's diet is balanced and provides all the nutrients that pigeons need.
Fruit: Fruit contains natural sugars which can provide an energy boost for breeding pigeons. It is also a good source of vitamins, minerals, and antioxidants which can help to keep them healthy.
How to Breed Pigeons?
How to Breed Pigeons Faster?
If you're interested in breeding pigeons, there are a few things you can do to help them breed faster.
First, make sure the birds have plenty of space. Pigeons like to roost in high places and will feel more comfortable if they have room to move around.

Second, keep the pigeons well-fed. A healthy diet will help them stay in good condition and produce strong offspring.
Third, provide nesting materials such as straw or hay for the birds to build their nests. This will give them a place to lay their eggs and raise their young.
Finally, don't disturb the pigeons while they're breeding. Allow them peace and quiet, so they can focus on raising their family.
By following these tips, you can help your pigeons breed faster and healthier offspring.
Conclusion
Pigeons are interesting creatures and many people enjoy breeding them. There are a few things to consider when breeding pigeons, such as housing, food, water, and space.
Housing for pigeons can be anything from a simple cage to a more elaborate aviary. It is important to make sure that the housing is safe and secure, as well as comfortable for the birds.
Food and water should be available at all times, and it is significant to change the water daily. Pigeons also need a place to bathe, so provide a shallow dish of water for them to splash around in.
Space is also significant when breeding pigeons. They require enough room to fly and exercise, so an outdoor area is ideal.
If you do not have an outdoor area, make sure the indoor space is large enough for them to move around freely.
{ "@context": "https://schema.org", "@type": "FAQPage", "mainEntity":[{"@type": "Question", "name": "How Do You Breed New Pigeons? ", "acceptedAnswer": { "@type": "Answer", "text": " Pigeons are not typically bred for new blood. The primary exception to this is when a new strain or color of pigeon is needed for show purposes. In these cases, specific birds are chosen to be bred together in order to produce the desired outcome. Aside from that, breeding pigeons is generally done within the same flock in order to maintain good health and vigor in the birds. Healthy pigeons will typically mate and produce offspring without issue. It is only when there are health problems present that outside intervention may be necessary." } } ,{"@type": "Question", "name": "Is It Hard to Breed Pigeons? ", "acceptedAnswer": { "@type": "Answer", "text": " No, it is not hard to breed pigeons. Pigeons are monogamous and will mate for life if given the chance. They are very good parents and will take care of their young until they are able to fend for themselves. The biggest challenge when breeding pigeons is finding a suitable nesting site as they will not nest just anywhere." } } ,{"@type": "Question", "name": "How Long Does It Take for Pigeon to Mate? ", "acceptedAnswer": { "@type": "Answer", "text": " Pigeons are monogamous and will mate for life. The male will court the female by bowing, cooing and nibbling her neck. Once they have mated, the pair will build a nest together and take turns incubating the eggs. It usually takes around 18 days for the eggs to hatch." } } ,{"@type": "Question", "name": "What is the Best Food for Breeding Pigeons? ", "acceptedAnswer": { "@type": "Answer", "text": " There is no definitive answer when it comes to what the best food is for breeding pigeons. However, there are certain foods that can be beneficial for breeding pigeons and helping them to produce healthy offspring. Some of the best foods for breeding pigeons include: -Grain: Grain is an excellent source of energy for pigeons and can help to keep them healthy and active. It is also high in protein which is essential for growth and development. -Vegetables: Vegetables are a good source of vitamins and minerals which are important for pigeon health. They can also help to ensure that the pigeon diet is balanced and provides all the nutrients that pigeons need. -Fruit: Fruit contains natural sugars which can provide an energy boost for breeding pigeons. It is also a good source of vitamins, minerals and antioxidants which can help to keep them healthy." } } ] }