No, budgies are not smelly. In fact, they are known for being clean birds. They will preen their feathers and keep themselves looking neat and tidy. Budgies do have a scent, but it is not unpleasant. Some people say that budgies smell like sunshine.
Budgies are not smelly. In fact, budgies are one of the cleanest pets you can have. They preen themselves constantly to keep their feathers clean and neat.

Budgies also have a very efficient digestive system that eliminates waste quickly and effectively.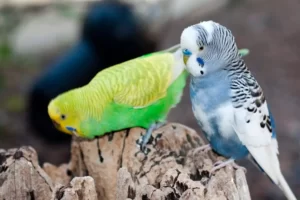 Why is My Budgie Smelling Bad?
Budgies are small, parakeet-like birds that make popular pets. They are known for being social and interactive, which makes them a great choice for those looking for a pet bird.
While budgies are generally clean animals, there are times when they may develop an unpleasant odor.

This can be due to a number of factors, such as an infection or poor hygiene. If your budgie smells bad, it is important to take him to the vet to rule out any medical causes.
If no underlying health issue is found, there are several things you can do to help eliminate the bad smell.

First, make sure your budgie has a clean cage. This means cleaning all of the perches and toys on a regular basis. You should also empty and clean the water and food dishes daily.

In addition to keeping the cage clean, you need to pay attention to your budgie's diet. A healthy diet will go a long way in preventing bad smells.
Make sure your budgie has access to fresh water at all times and offers a variety of healthy foods, including pellets, vegetables, and fruits.

Avoid giving your budgie processed foods or seed mixes that contain fillers and artificial ingredients. If you have addressed all of the above issues and your budgie still smells bad, it is possible that he is suffering from stress or anxiety.
Budgies are very sensitive creatures and can pick up on our negative emotions.
How Do I Stop My Budgies from smelling?
If your budgie smells bad, there are a few things you can do to help. First, make sure that their cage is clean. A dirty cage will cause your budgie to smell bad.

Second, give them a bath. This will help remove any dirt or oil that may be on their feathers. Third, make sure they have access to fresh water.

A clean and fresh water bowl will help keep your budgie's feathers clean and free of bacteria. Finally, if you think your budgie may have an infection, take them to the vet for a check-up.
Does Budgie Smell Bad?
No, budgies do not smell bad. In fact, they are known for being clean birds and are often compared to canaries when it comes to cleanliness.
Budgies enjoy bathing in their water dishes and will often preen themselves to keep their feathers clean and healthy.
Do Birds Stink Up the House?
No, birds do not stink up the house. In fact, they are quite clean animals and groom themselves regularly.
If you have a bird as a pet, you will need to clean its cage often to prevent any odors from developing.
What Budgies should smell like? 
Do Budgie Cages Smell?
Budgie cages can smell for a variety of reasons. The most common reason is due to bird droppings. Budgies are very messy birds and their droppings can cause a strong odor in the cage.

Another common reason for a smelly budgie cage is poor ventilation. If the cage is not well-ventilated, the air can become stale and cause an unpleasant smell. Finally, if the cage is not cleaned regularly, it will begin to stink over time.

If your budgie cage smells bad, there are a few things you can do to fix the problem. First, make sure that you are cleaning the cage on a regular basis.
At least once per week, you should remove all the toys and accessories from the cage and give it a good deep clean.

This includes scrubbing down all of the surfaces with hot water and soap. Once everything is clean, be sure to rinse everything thoroughly before putting it back in the cage. Second, check the ventilation in your budgie's cage.

If there isn't good airflow, consider adding some extra holes or replacing any screen covers that might be blocking airflow.
Third, if you use any type of substrate in your budgie's cage (such as sand or paper), be sure to change it out regularly as well. A fresh layer of substrate will help absorb any odors that might be present.

By following these tips, you can help keep your budgie's Cage smelling fresh and clean!
Conclusion
No, budgies are not smelly. In fact, they are known for being clean birds. However, like any animal, they can sometimes have an odor if they are not properly cared for.

Budgies require fresh water and food daily, as well as a clean cage. If these things are not done, the budgie may start to smell bad.
{ "@context": "https://schema.org", "@type": "FAQPage", "mainEntity":[{"@type": "Question", "name": "Why is My Budgie Smelling Bad? ", "acceptedAnswer": { "@type": "Answer", "text": " Budgies are small, parakeet-like birds that make popular pets. They are known for being social and interactive, which makes them a great choice for those looking for a pet bird. While budgies are generally clean animals, there are times when they may develop an unpleasant odor. This can be due to a number of factors, such as an infection or poor hygiene. If your budgie smells bad, it is important to take him to the vet to rule out any medical causes. If no underlying health issue is found, there are several things you can do to help eliminate the bad smell. First, make sure your budgie has a clean cage. This means cleaning all of the perches and toys on a regular basis. You should also empty and clean the water and food dishes daily. In addition to keeping the cage clean, you need to pay attention to your budgie's diet. A healthy diet will go a long way in preventing bad smells. Make sure your budgie has access to fresh water at all times and offer a variety of healthy foods, including pellets, vegetables and fruits. Avoid giving your budgie processed foods or seed mixes that contain fillers and artificial ingredients. If you have addressed all of the above issues and your budgie still smells bad, it is possible that he is suffering from stress or anxiety. Budgies are very sensitive creatures and can pick up on our negative emotions. Try to create a calm environment for your budgie by playing soft music or using calming essential oils diffusers near his cage" } } ,{"@type": "Question", "name": "How Do I Stop My Budgies from Smelling? ", "acceptedAnswer": { "@type": "Answer", "text": " If your budgie smells bad, there are a few things you can do to help. First, make sure that their cage is clean. A dirty cage will cause your budgie to smell bad. Second, give them a bath. This will help remove any dirt or oil that may be on their feathers. Third, make sure they have access to fresh water. A clean and fresh water bowl will help keep your budgie's feathers clean and free of bacteria. Finally, if you think your budgie may have an infection, take them to the vet for a check-up." } } ,{"@type": "Question", "name": "Does Budgie Smell Bad? ", "acceptedAnswer": { "@type": "Answer", "text": " No, budgies do not smell bad. In fact, they are known for being clean birds and are often compared to canaries when it comes to cleanliness. Budgies enjoy bathing in their water dishes and will often preen themselves to keep their feathers clean and healthy." } } ,{"@type": "Question", "name": "Do Birds Stink Up the House? ", "acceptedAnswer": { "@type": "Answer", "text": " No, birds do not stink up the house. In fact, they are quite clean animals and groom themselves regularly. If you have a bird as a pet, you will need to clean its cage often to prevent any odors from developing." } } ] }